Commercial Lead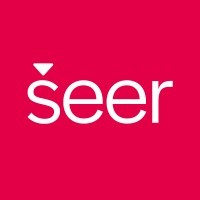 Seer
Administration
London, UK
Posted on Thursday, February 9, 2023
Description
About us
Seer is a Melbourne-based MedTech company challenging the status quo of how healthcare is delivered. Through award-winning medical devices, extensive research and development programs, and demand-based clinical coverage across the country, we are shifting the patient centre of care from the hospital to the home.
Seer believes that technology can have a positive impact on healthcare. We are on a mission to challenge the status quo of healthcare and push the limits of what's possible regarding patient empowerment. By opening access to home monitoring services at scale, we can relieve bottlenecks in the healthcare system, fast-track treatment, improve productivity, and save millions of lives.
Seer has already significantly impacted Australia over the last five years and is now entering the UK market.
About the team
Seer Medical is on a mission to create new clinical care pathways for diagnosing and managing neurological conditions. Opening access to home monitoring at scale will relieve bottlenecks in the healthcare system, fast-track treatment and save lives. Securing referrals and service contracts for Seer Medical's innovative home-based video-EEG-ECG diagnostic service is critical to Seer's success and realising our vision of being the global leader in home clinical monitoring.
About the role
The UK Commercial Lead is responsible for driving the adoption of Seer's services across the NHS and private channels in the UK, with a particular focus on London. The role will require a solutions-selling mindset and a passion for uncovering potential in the market and, at times, disrupting existing behaviours to tap into that potential. The primary objective of the role is to secure commercial partnerships with hospitals that translate into revenue growth for the company. Maintaining a close relationship with customers (such as neurologists, consultant neurophysiologists, clinical physiologists and departmental managers) and high levels of influencing and stakeholder management are essential to increase referrals and service uptake.
A highly motivated, tenacious, enthusiastic and resilient sales professional who increases visibility and awareness of our company, technologies and services and meets ambitious revenue targets is vital to the company's accelerated growth.
Travel is required throughout the UK and occasionally the EU.
In this role, you will:
Directly grow referrals and service contracts for Seer Home-based services in the UK.
Develop UK sales plan to meet revenue targets.
Assist with converting leads generated from marketing and advertising initiatives.
Contribute to developing an annual strategic plan and sales forecast by providing detailed business intelligence for accounts in scope.
Implements effective sales strategies with a focus on market penetration and customer penetration (more sales per customer)
Build and maintain long-term, trusted professional relationships with all stakeholders within a hospital or clinic.
Leverage your excellent communications skills to educate consultants and physiologists on the benefits of Seer products and services.
Monitor and analyse data and market conditions to identify competitive advantages, trends and gaps in the market.
Remain up-to-date with the latest medical data and government and NHS policy changes.
Represent the company in meetings and conferences.
Contribute to the ongoing development and improvement of internal functions, which improve sales outcomes.
Your experience:
Highly experienced and proven sales track record in a clinical sales environment
Consultative selling experience with a track record of new business development
Experience and relationships within neurology teams and EEG departments are highly desirable
Degree in healthcare, health sciences or medical technology, or equivalent.
Why choose Seer?
At Seer, we are doing purposeful work solving some of healthcare's most pressing problems.
You will:
Challenge the status quo. If there's a better way of getting something done, that's how we want to do it.
Improve the lives of patients across the country using our groundbreaking products and technology.
Be empowered and enabled to do your best work.
Be treated with respect by your colleagues and peers.
A bit more about us
As leaders in seizure cycle research, we've been awarded a shared US$3 million and a further AU$1m to develop world-first seizure risk forecasting capabilities in our app. This feature is made better for app users through our partnership with Fitbit and Epiminder.
Patients rate us 'Excellent' on Trustpilot as a result of our incredible clinical team.
Awarded 'Most Outstanding Patient Innovation' for 2021 by the Australian Patients Association.
Ranked #8 on Deloitte's Tech Fast 50 in 2020 (Australia's list of fastest-growing technology companies).
Our drive to improve patient comfort has led to three prestigious design awards across Australia and Europe for our wearable EEG/ECG device, Seer Sense®.
We know your time is valuable and that finding the right role at the right company is a time-consuming journey. Seer is committed to providing candidates with an engaging, informative, and transparent experience as part of our recruitment process.
One last thing — We uphold and live by our company values every day. If they resonate with you and you are interested in this role, we look forward to reading your application.